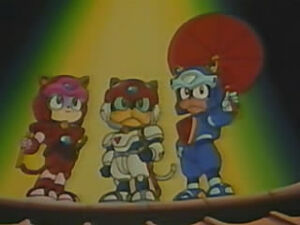 Welcome to Kyattou Ninden Teyandee Wiki

Edit
Kyattō Ninden Teyandee (キャッ党 忍伝 てやんでえ, Kyattō Ninden Teyandee?) is an anime series produced by Tatsunoko Productions and Sotsu Agency. The series was aired from February 1, 1990 to February 12, 1991, totaling up to 54 Episodes.
The stars of the show are three anthropomorphic cats who protect the city of Edoropolis from crime while making a living running a pizzeria.
KNT Music
---
Ad blocker interference detected!
Wikia is a free-to-use site that makes money from advertising. We have a modified experience for viewers using ad blockers

Wikia is not accessible if you've made further modifications. Remove the custom ad blocker rule(s) and the page will load as expected.